Why bigger is not always better.
Some aqua parks might take you to extreme heights and their huge products may seem like a major attraction. With more than 25 years of experience shows there are numerous reasons you should consider before making your buying decision.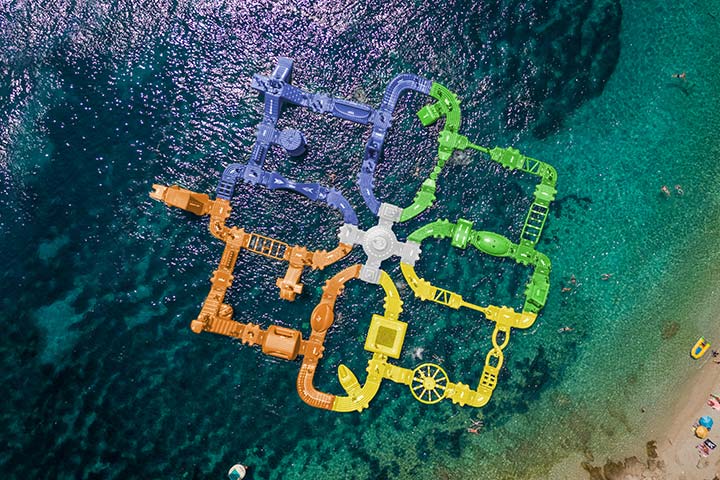 Extremely high products are misleading. While you might think your customers would prefer the roller-coaster adrenaline of jumping or sliding from extreme heights, our research shows that height and fun aren't related. Instead, the infinity shape and different challenge levels of our combinations have the greatest influence on a guest's enjoyment of a SportsPark.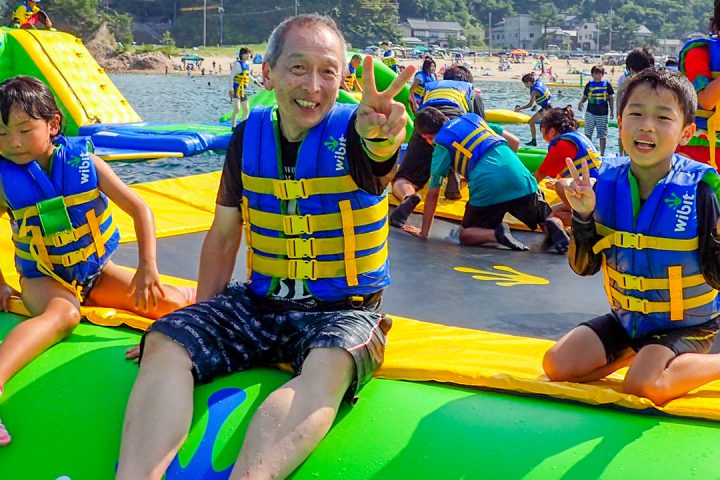 Make sure your products are meant for everyone – unlike high products which appeal to a narrow audience. Imagine how long the lines will be if a child or person not in the best "shape" struggles to climb your product. It is important to avoid bottlenecks and instead offer endless routes of fun, as this increases the number of happy returning customers. Your products should offer fun for the whole family, not just the most daring.
At Wibit, safety is our main priority. All of our products were designed according to the European safety standard EN ISO 25649 and have been tested and approved by the world renowned, independent testing house, TÜV, located in Germany.
Higher products are easily affected by wind, which can cause them to become unstable and dangerous.
Making sure a huge product is properly lifeguarded requires more staff to cover all the sidelines and the extreme distance between the top of the product and the water. This still won't guarantee the safety of your customers.
Every owner knows that accidents are bad for business.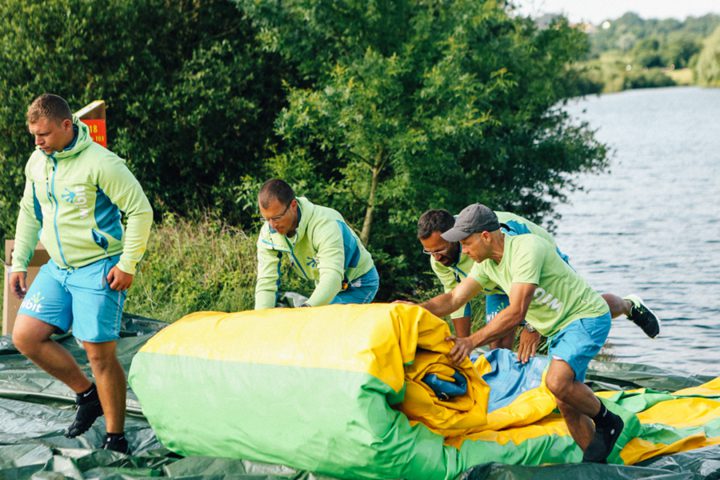 Extremely high products must be installed in very deep water. The EN ISO 25649 standard defines a specific minimum water depth based on product height, that must always be followed. A water depth of at least 4m is required for a 6m product – that can be far from shore. This means you will need more manpower for the installation, anchoring, and handling of extremely high products. The sheer mass of a product of this size will easily require more than 5 tons in anchor weights to hold the product safely in place.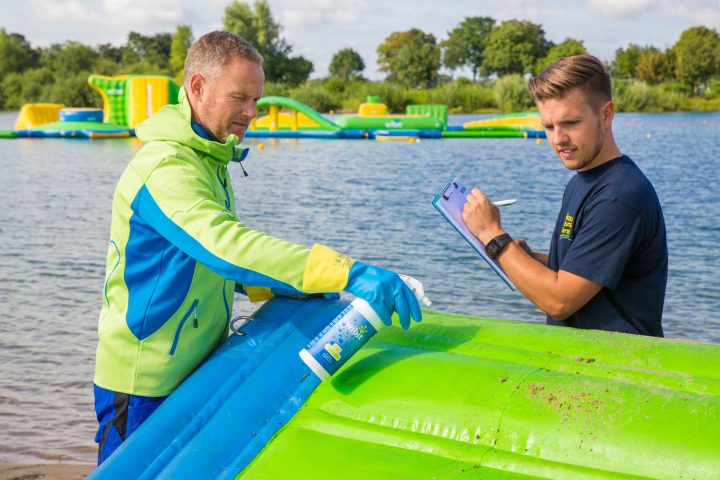 Defects or tears in products of this size are more likely to occur and are difficult to repair. The bigger the product, the more time it takes to find a hole and repair it. And don't get us started about regular maintenance. Products of this size are unwieldy regardless of the manpower you have on hand. Have you thought about storage yet? A huge product will require lots of space and you should make sure that it's stored clean and dry to avoid tears and holes.
Considering the price of most huge products, you will find that for a similar amount you could buy a Wibit SportsPark – including all the advantages of user-friendly experience and the Wibit expertise to make your business sustainable and successful for many years to come.
At Wibit, we never compromise on safety and quality. When we do something, we do it right.
There is a reason why we would never build huge products!
What our products lack in extreme height, they make up for ten-fold in fun and visitor engagement. Have your customers return year after year for new experiences that are fun for all!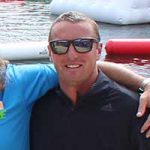 Stuart Marstion, CEO
Liquid Leisure, UK
"When replacing my existing water park with a Wibit SportsPark I was a little worried about the outcome. My old water park had these huge 5 m obstacles which look so appealing from the beach. I was worried that the Wibit SportsPark might not be as attractive, especially for the teenagers. Now after the first season with the Wibit, having spoken to numerous customers (families, kids, teenagers, adults) I am 100 % sure I have made the right decision. Not only has the number of accidents decreased significantly but also my numbers have gone up."