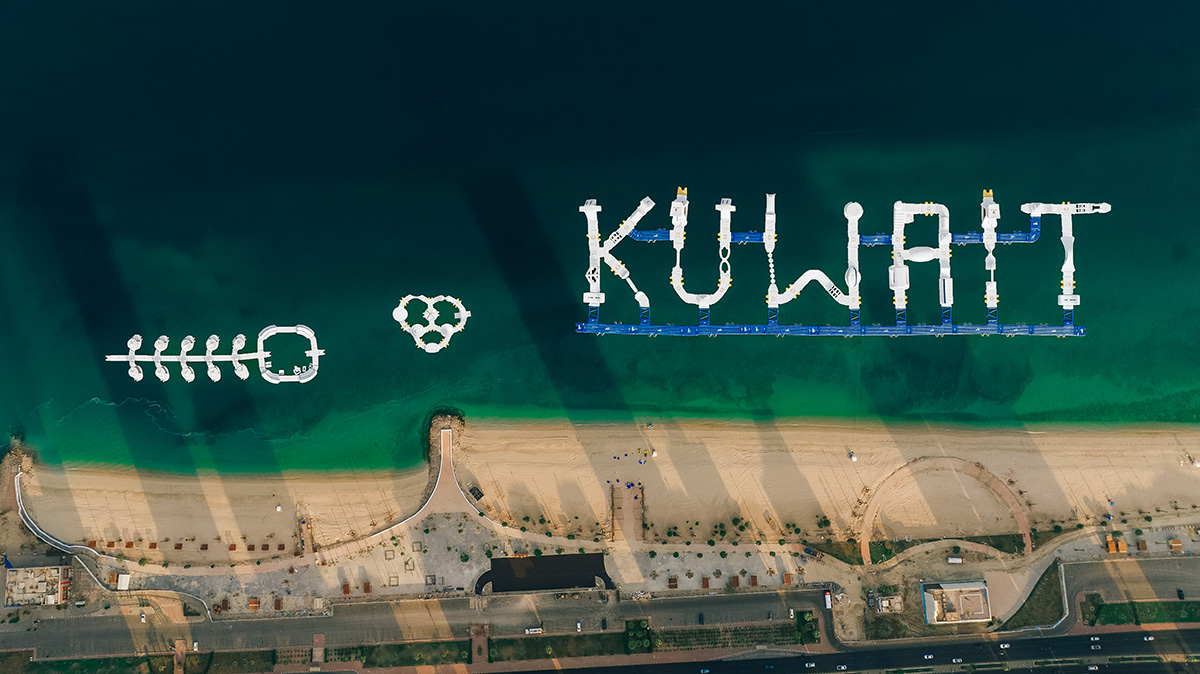 Success Story:
Blajat Beach, Kuwait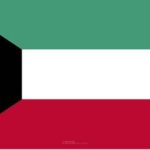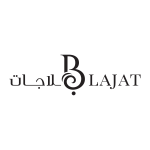 One of the largest projects in Wibit's history celebrated it´s opening on September 26th, 2023, in Salmiya, Kuwait! With a total size of 300 x 30 meters and more than 370 inflatable modules, more than 730 people can enjoy exciting moments on the water at once. You will find a unique Wibit water-experience at Blajat Beach, which is unified through three different areas. At this Wibit park, you can enjoy both exhilarating excitement and tranquil relaxation, catering to visitors of all ages.
KuwaitTAG – Custom color Wibit SportsPark
The completely new and revolutionary way of communication: The modular Wibit components were connected systematically to spell out the word "Kuwait". Our customers have "tagged" their water location to maximize exposure from land and air, creating outstanding awareness and giving them an iconic identity. This floating waterpark tests coordination, balance and agility and all while experiencing a full day of unforgettable moments.
Wibit KIDS – Easy and exciting obstacles for the little ones in shallow water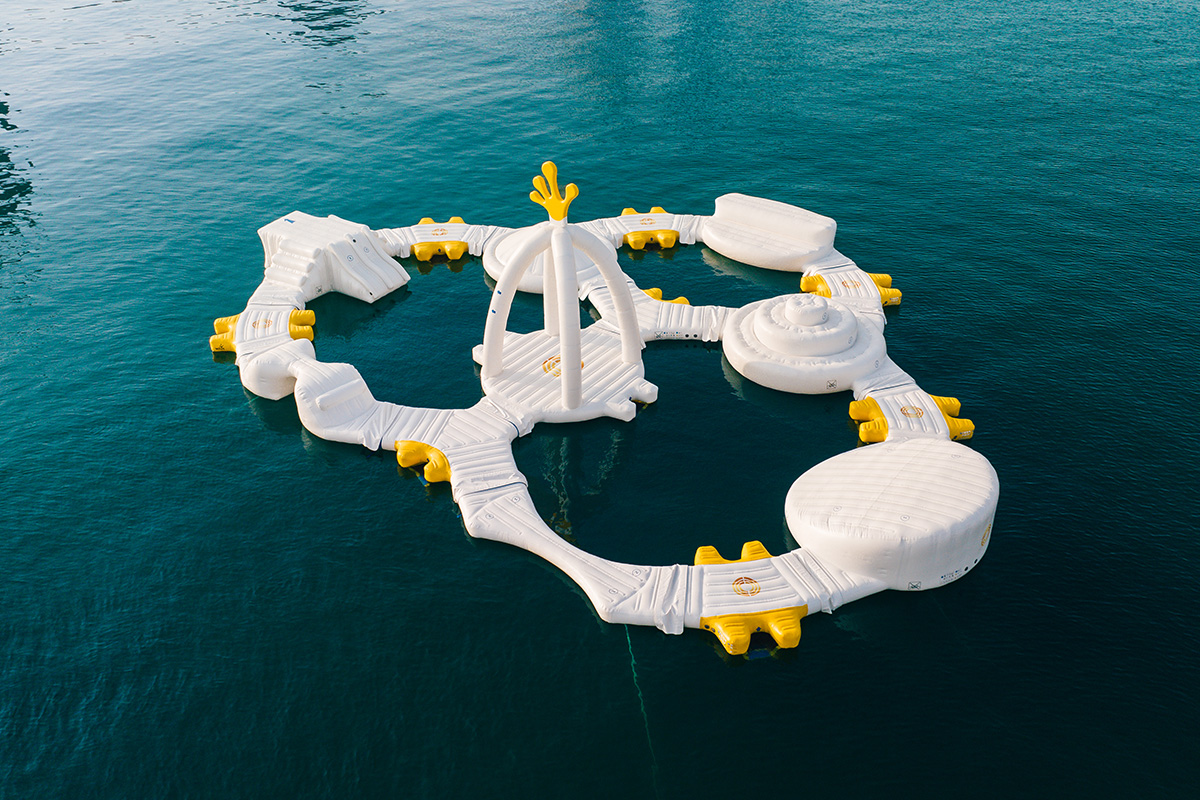 The KidsCircuit is specifically designed for young swimmers starting at the age of four. It also includes a special "Bench" to give the guard a perfect position to overlook the full park and guarantee safety. InfinityLoops ensure limitless pathways of enjoyment without any crowding points. This enables extended playtime and delivers the renowned Wibit user experience.
Looft by Wibit – Unique place for relaxation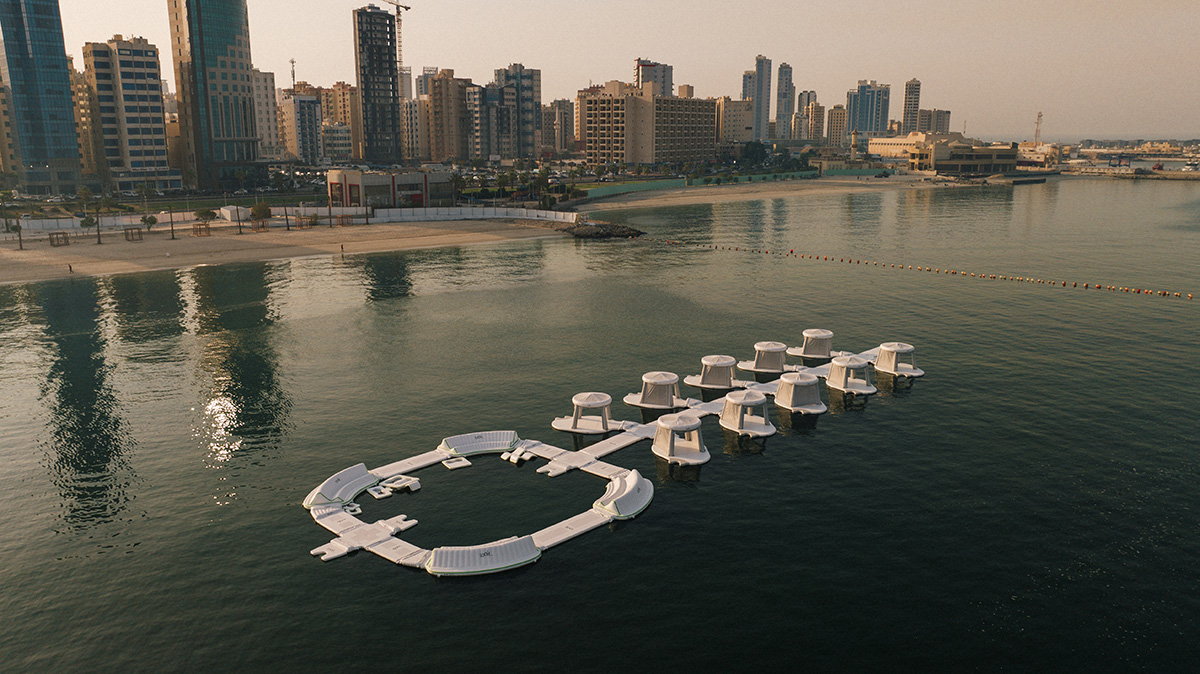 You can encounter the ultimate action on our products, but that's not all. Blajat Beach was also complemented by products of our sub-brand Looft catering to the diverse needs of all audiences.
Looft represents a new standard of water elegance, tailored for venues and visitors seeking unparalleled quality and the ultimate aquatic experience. With Looft, our customer TEC (Touristic Enterprises Company) has elevated the beach experience, crafting an exceptional and thrilling destination for their guests.
The Looft area seamlessly merges multiple premium quality individual floating Relax-Modules with an expansive, one-of-a-kind platform featuring ten cabanas. At the far end of this platform, you'll find a captivating swimming pool encircled by four comfortable couches – a perfect oasis for private relaxation.
Exclusive insights – From planning to operation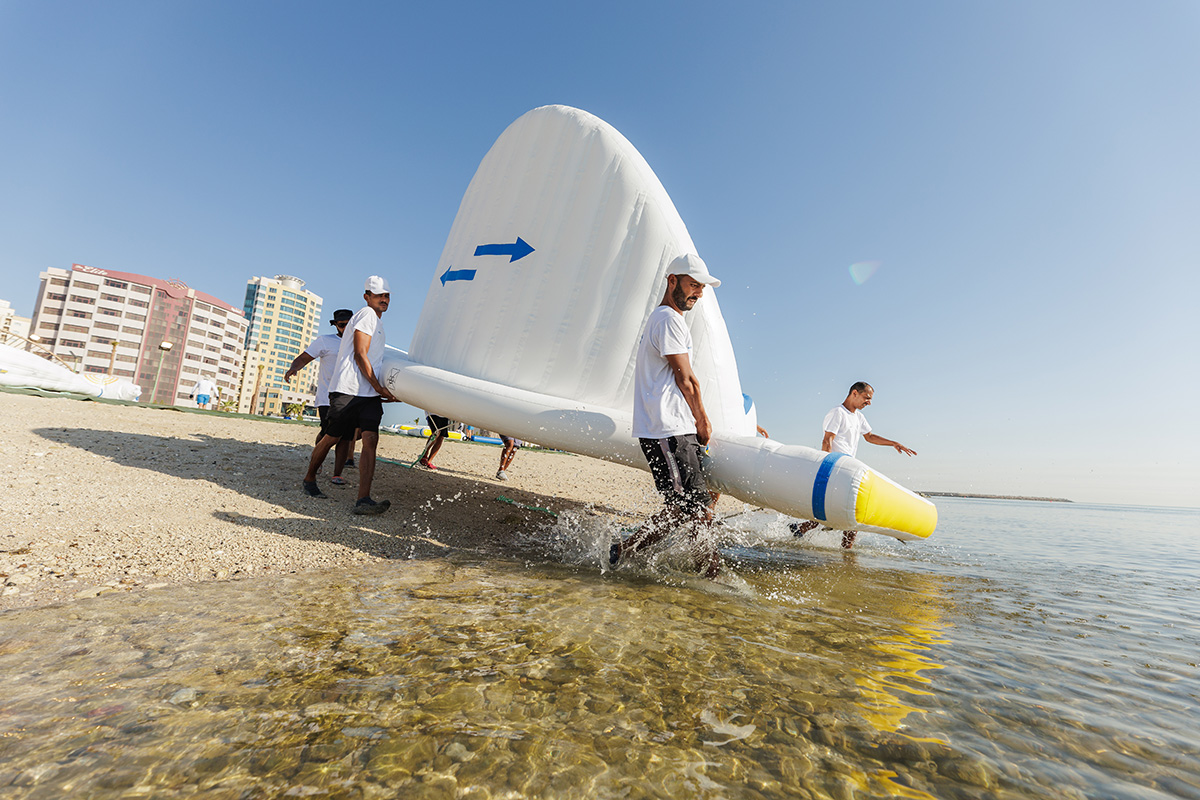 The Blajat project is located in the Salmiya area, right at the heart of Kuwait City's largest public beach. This government-led project encompasses the revitalization and enhancement of the entire coastal stretch, introducing numerous new facilities and amenities. We are delighted to contribute a standout attraction to this remarkable location!
The operator TEC aspired to collaborate with the top provider on the market, and upon their research, they discovered that Wibit stood out as the best choice. After liking what they saw on YouTube, the company contacted us directly. TEC's primary focus at Blajat Beach was ensuring the safety and enjoyment of their customers. They were in search of a distinctive solution to fulfill these priorities. The operator was captivated by the opportunity to spell out the name of their beloved country, making the choice of Wibit a clear and enthusiastic one.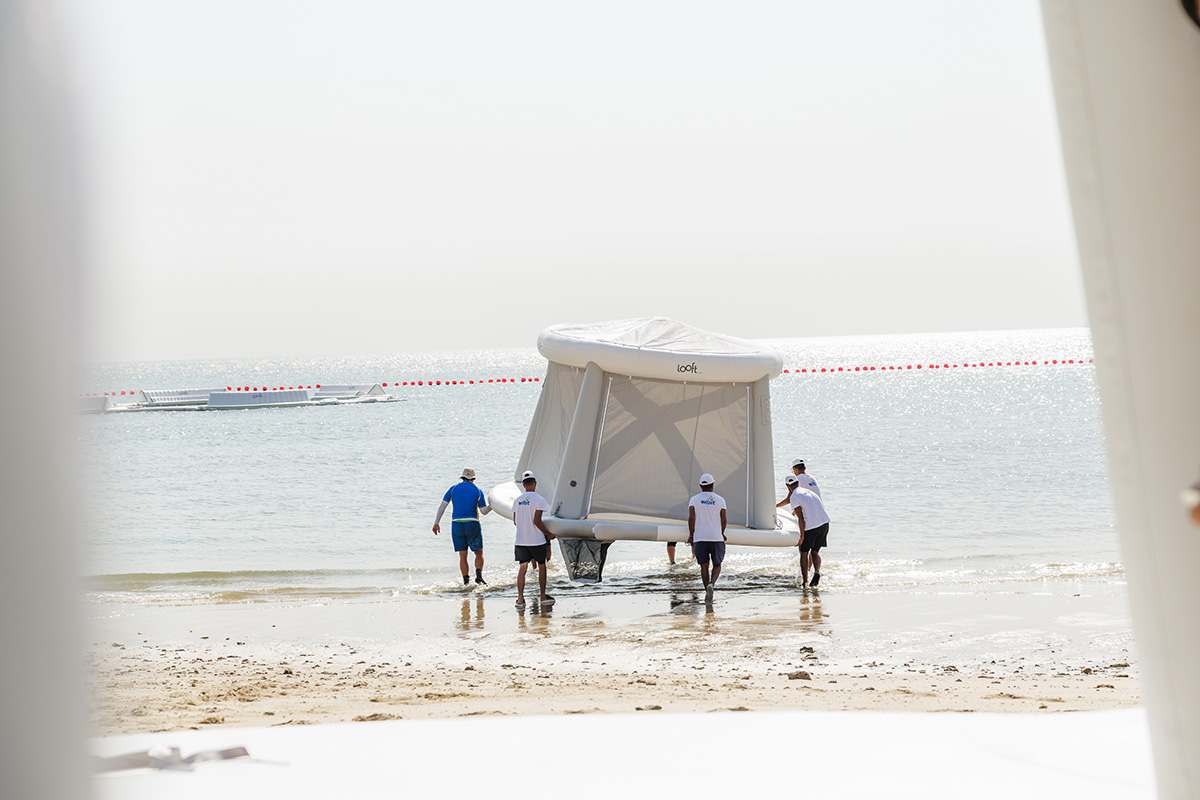 The entire process, from the initial contact to the project's completion, was exceptionally seamless. The fact that it took only four months from the initial planning stage to full operation is truly remarkable!
Indeed, there were several challenges that needed to be overcome along the way. After encountering stringent shipping requirements, our installation team had to address a few installation challenges. This location experiences a robust sea current and, in addition, faces tide differences of up to three meters. In addition to this, the project was implemented in the summer period where the weather is extremely hot with temperatures around 45 to 50 degrees. Despite all the obstacles, our team successfully completed the installation, which involved 16 tons of products distributed across 62 pallets, all within a remarkably short span of six days and adhering to the planned schedule!
Our customer, TEC, appreciates the project's uniqueness and the diverse solution it offers. They are extremely pleased to have established a remarkable destination.
With the grand opening of this expansive park, we are honored to have become a part of the government's waterfront development initiative at Blajat Beach. We extend our best wishes to all visitors, hoping they have unforgettable adventures on the water!